Broccoli Lasagna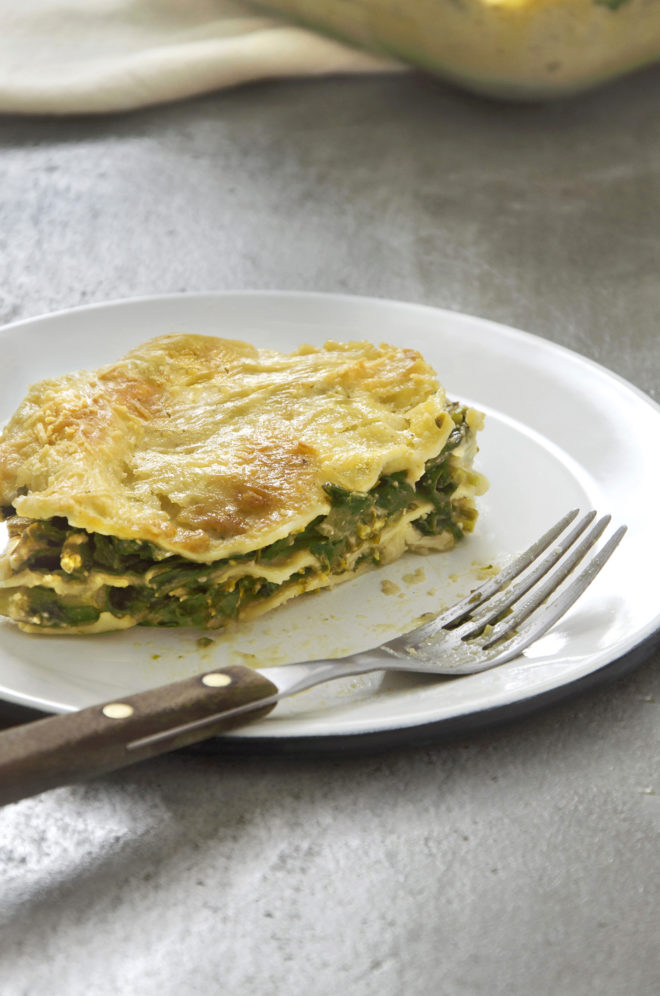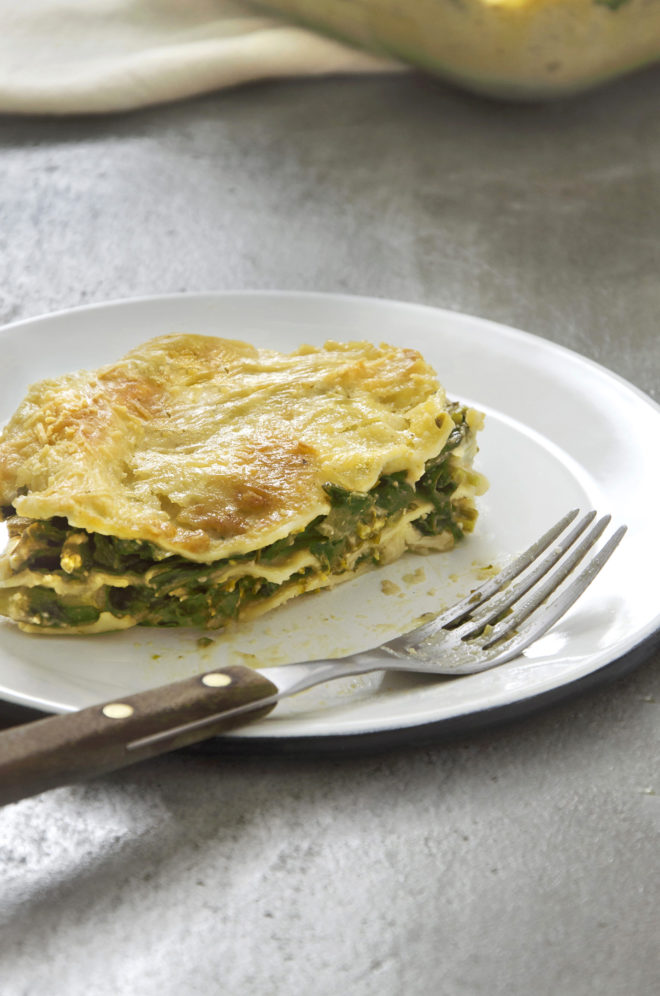 Want to impress someone? A warm, scented, flavourful lasagne is perfect to warm and conquer the belly and heart. And this one here fulfills all my requirements. I admit it gives a little work to do, but I'm sure that after the first bite you'll want to do it over and over again. And if you stay quiet, nobody's going to say you're vegan!

The secret of this whole wonder is to use a good vegan cheese, because lasagna without cheese is not lasagne, right? Even being vegan hehehe. I used Veg Life Mozzarella Cheese Veg made with cashew nuts. It shreds and melts, forming a crunchy golden sauce over the lasagna, which contrasts with the creamy sauce. Seriously, it gets really good! In addition to this cheese they produce the Minas Frescal and Minas Gerais, all without milk, zero lactose, gluten free and cholesterol free.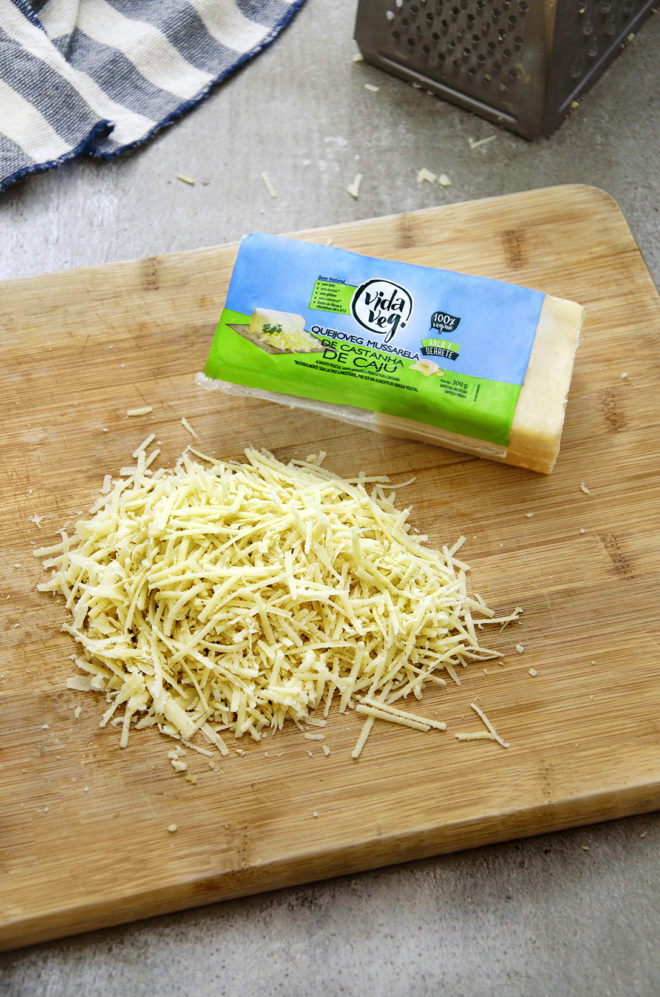 For the white sauce I used Veg Life Almond Milk too, it is slightly sweet and more concentrated, it perfectly replaces cow's milk. They also produce Coconut Milk, both of which are fortified with calcium and vitamins D, B6 and B12.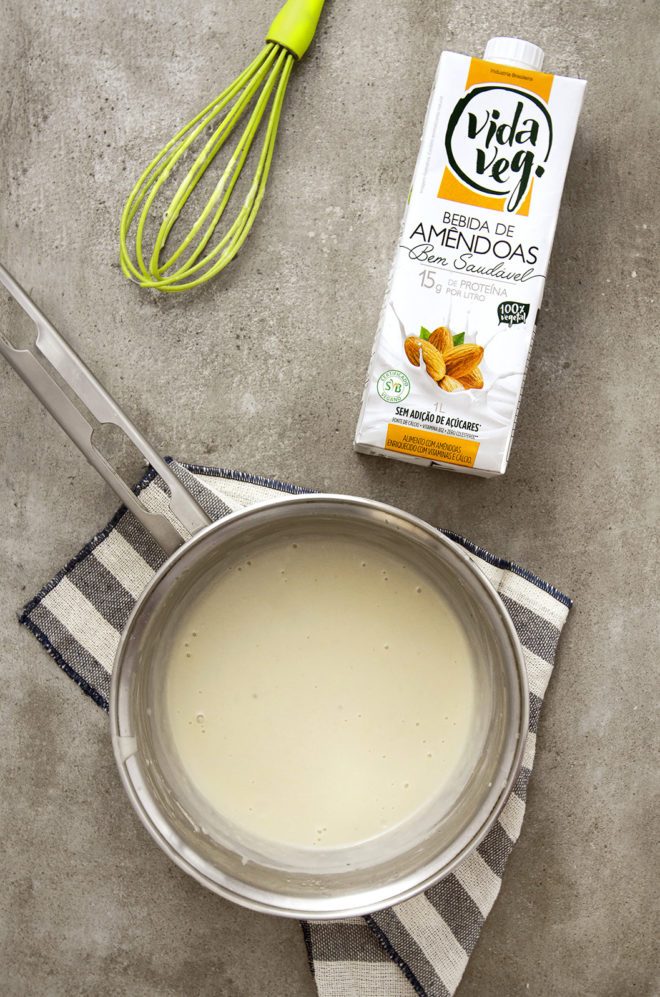 Already for the filling I used common, branch broccoli, my favorite. I find it much more tasty, but if you prefer you can do it with ninja broccoli. I used the stem and the leaves too to avoid wastage, it's all edible! I sautéed in olive oil with garlic, salt and pepper 💚
Another important information, the mass of the lasagna bought ready in the supermarket, is that dry pre-cooked only made with wheat semolina and water.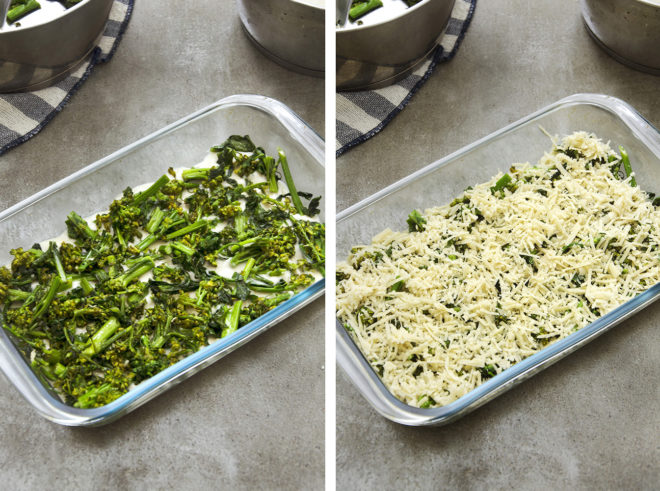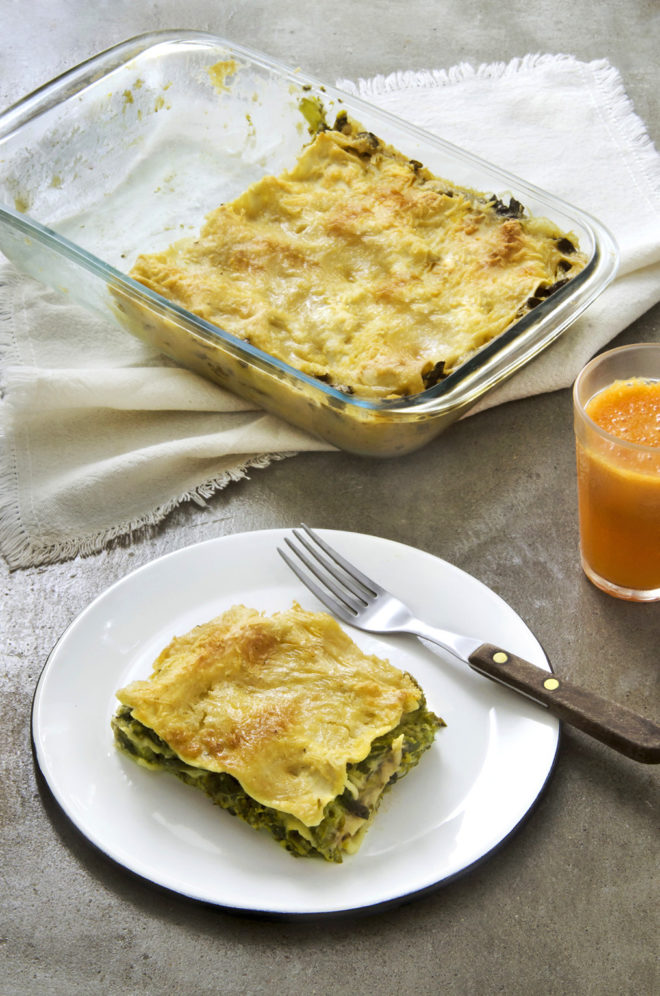 Youre gonna need it…
For the white sauce:
Veg Life Almond Milk – 600 ml
White and organic wheat flour – 3 tablespoons (25g)
Olive oil – 2 tablespoons (30 ml)
Nutmeg – 1 pinch (optional)
Salt – 1 teaspoon (5 g)
For the filling:
Broccoli (common or ninja) – 250 g
Chopped Garlic – 2 small teeth (5 g)
Olive oil – 2 tablespoons (30 ml)
Salt – 1 teaspoon (5 g)
Pepper-to-taste (optional)
Pre-cooked lasagna – 10 sheets (120 g)
Veg cheese mozzarella grated Veg life – 2 cups (220 g)
How to Make White Sauce:
1- In a medium saucepan place the olive oil and the wheat flour. Bring to medium heat and stir continuously for about 2 minutes.
2- Remove the pan from the heat and add half the almond milk, stir vigorously. Return to the pan, add the rest of the milk and continue stirring constantly.
3- When starting to boil season with salt and nutmeg (optional). Cook for about 10 minutes, stirring often until slightly thickened. The sauce should still remain liquid because it will moisturize and cook the dough in the oven.
4- Turn off the heat and set aside.
Filling:
1- Wash the broccoli and cut into smaller pieces. In addition, the leaves are used as leaves and stalks.
2- Heat the oil in a large saucepan and saute the student until lightly browned.
3- Add the broccoli and season with pepper and the kingdom. Saute for about 3 minutes by stirring frequently until wilted. It's okay if it's al dente, it'll finish cooking in the oven.
4- Turn off the fire and reserve.
How to assemble the lasagna:
1- Preheat the oven to 180ºC.
2- Fill the bottom of a rectangular (24 cm x 16 cm) refractory with a layer of white sauce.
3- Arrange a layer of dough, cover with white sauce, half the broccoli filling and sprinkle with mozzarella cheese.
4- Continue alternating layers of pasta, white sauce, filling and mozzarella in that order. Cover the last layer of pasta with plenty of white sauce and sprinkle mozzarella cheese.
5- Take the preheated oven for about 40 minutes. Serve still warm.
Yield: 6 servings
This post is also available in:
Português (Portuguese (Brazil))